Engine-Powered Pogo Sticks, The Hop Rod
Owned by Pete Stanaitis
Last Update: October 17, 2023
---
French Creek Valley Home
Back to My Machine Shop
Hole Tapping Tips
My Blacksmthing Page
Contact Us
---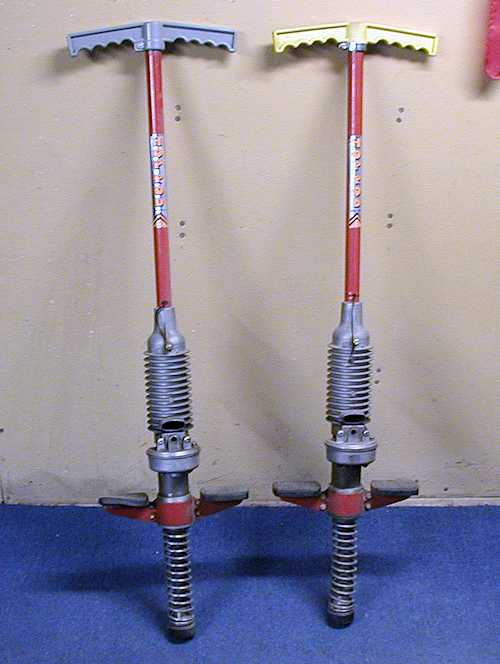 My Two Hop Rods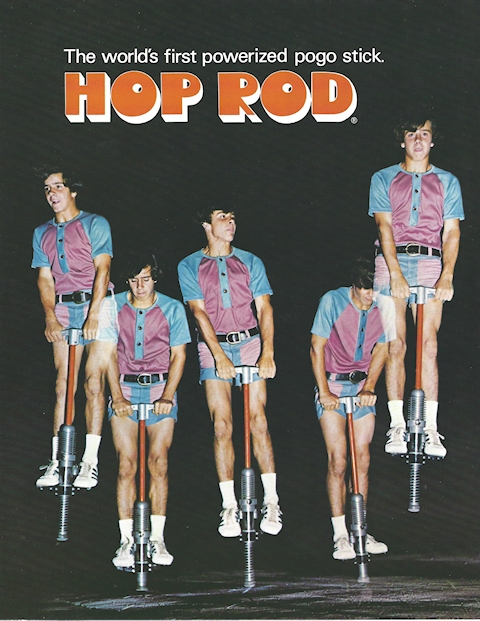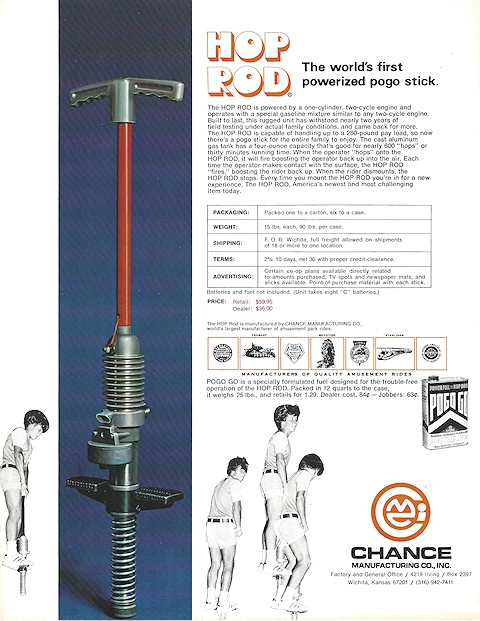 Here are the front and back sides of a Hop Rod Brochure.
It looks like this one was sent to potential dealers, since it shows both wholesale and retail prices.
These pictures are of a reduced size for your viewing here, but if you want the full size and resolution,
just click on either picture to get it.


The text below was used when I displayed a Hop Rod at a local Blacksmith Conference Gallery
This gasoline powered 2 cycle HOP ROD pogo stick is identical to the one ridden (and raced!) by Ron Kinyon, inventor of the ABANA pneumatic forging hammer.
Since I told Ron during our European ABANA Blacksmith trip last year (1999) that I really wanted my own Hop Rod,
and since Ron brought me one to borrow (delivering it at the Flagstaff ABANA conference This year),
several members thought is was appropriate to show here in our local Guild of Metalsmiths conference gallery.

After all, the Hop Rod IS made of metal. And it certainly is a rare conversation piece.
It was featured in a full-blown road test article during 1960 by Motor Trend Magazine.
Manufactured in 1960 and 1961, powered pogo stick would toss an adult about 2 feet into the air with each hop (unless something went wrong).
That worked out well until someone was injured badly during a publicity stunt at the Indianapolis Motor Speedway
and shortly thereafter a well known (at the time) evening TV personality was thrown off his Hop Rod and broke a shoulder on his late night show.

I am told that the USA Department Of Transportation actually BANNED the machine!
The most dangerous mode, apparently, was being blasted off at an angle into a tree.
Not to be operated here at the conference for obvious reasons. Not for sale.
(Some very loosely related Background):
The ABANA European trip in 1999 was to the countries of Germany, Austria and the Czech Republic.
I wrote this article as a Gallery entry for the Guild of Metalsmiths "Madness",
their annual September conference in the year 2000.
Ron and I first discussed Hop Rods during the July, 2000 Flagstaff AZ ABANA conference.
A few months Later, I bought Ron's machine and I also acquired another Hop Rod on Ebay at about the same time.

How much do they sell for?
I see them on Ebay now and then. Here are a few examples:
In about 2012, I think one sold for more than $500
One was sold on Ebay in 2014 for $1000.00!
December 2, 2018- A decent looking HopRod brought $1,275 USD and there were 27 bids by 9 bidders.
---
The Hop Rod "Spark Plug":
Recently a guy contacted me if I had any extra "spark plugs", and asked about its dimensions.
I answered him, then he asked where he might get a new one.
My Reply"
Sorry, but I have no idea where one might get a new plug.
I just googled "Chance mfg company" and got this:
Chance Mfg Company Wiki
You will see that this must be the same outfit. However a lot of water over the dam since then.
But, maybe, a call to them might yield a lead. I saw that the "former Chance company emerged from bankruptcy in 2002".
They might have gone under from lawsuits due to the Hop Rod??? So they might no be real forthcoming, but it's worth a try.

Here are specs, pix and description of the Ignition Plug, from my view:


The Hop Rod's "spark plug" really isn't a spark plug at all.
It's just some sort of high temperature nylon-looking material with a threaded rod sticking through its center.
On the end of the threaded rod that sticks into the combustion chamber, a small coil spring is attached.
The last 5/16" of the spring material is straight. (and, I assume that this straight section protrudes to about the center of the bore).
The battery voltage is applied to the electrode through an induction coil.
When the hump on top of the piston rises to the top of the stroke, it contacts the end of the spring. This charges the induction coil.
When the piston begins to move back down several degrees, contact is broken and a spark is produced. That's it.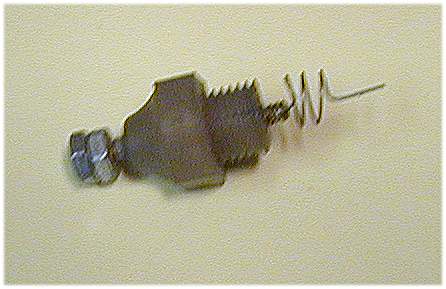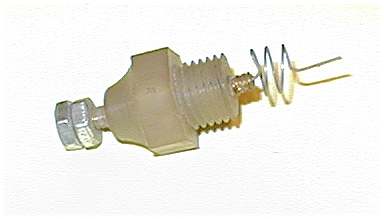 Ignition Plug Dimensions
Overall length of Ignition plug assy: 1.835 inches
Overall length of insulator, including threads: 0.810 inch
Overall length of 6-32 threaded rod: 1 1/4 inches
Hex size of ignition plug: 0.620 inch across flats
Length of 7/16-20 threaded end of ignition plug: 5/16 inch
Diameter of small end of insulator: approx. 5/16 inch
Overall length of coil spring, including straight part: 0.665 inch
Length of straight part of spring: 5/16 inch
Diameter of spring at largest part: 5/16 inch
Length of spring wound onto the 6/32 threaded rod: 1/8 inch
Diameter of spring wire: 0.018 inch

---
The Hop Rod Carburetor/Fuel Tank:
The carburetor and fuel tank are all one assembly. It is bolted onto the cylinder with two bolts.
The float bowl is fastened to the assembly with two bolts coming up from the float bowl bottom.
I have no idea how the actual fuel induction process works.
Here are a few close up pictures of the carburetor: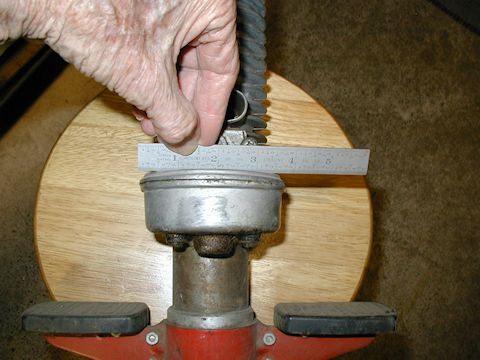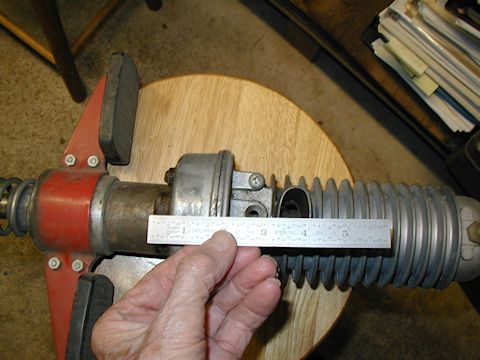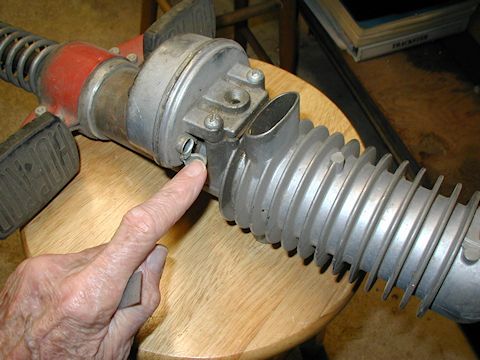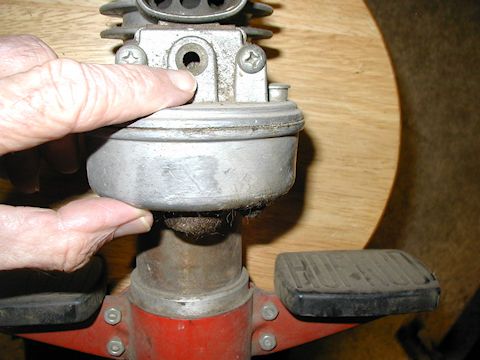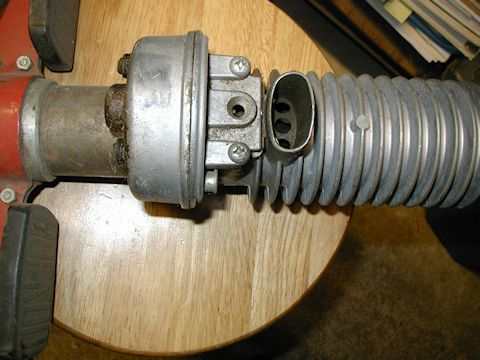 ---