March 11, Demonstrations at Midwest Tool Collectors' meet, Medina, MN
Howard Mironov, 651-698-9431

Tom will be working on parts for a medieval style oak chest.
Kitty will be weaving bands with her card loom.

---
March 16-18 Cresset class, Tin class,
Chicago Ave. Fire Arts Center, Mpls.
http://www.cafac.org 612.294.0400
"Hold Your Fire" Forging a cresset.
A cresset is an outdoor lighting device, often of openwork iron, made to hold resinous wood, which,
when burned, gives off a bright light silhouetting the wrought iron. The class will involve designing
and laying out a pattern, cutting the heated steel with chisels, forging, spreading, and rolling the
hot pieces into patterns. These parts will be joined by a tenon on the mounting post at the bottom
and by wrapping ends around a ring at the top to form a basket.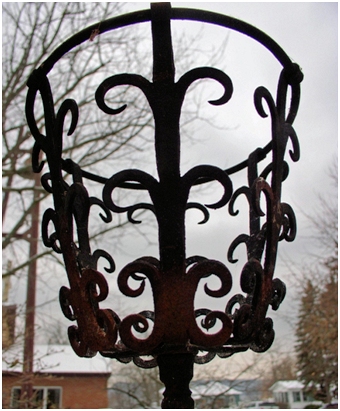 Two one-day tin classes
Class one: Fun with tin
Spend a day making a variety of small tin items including nutmeg graters, cookie cutters and ornaments.
Skills include marking a pattern, cutting, punching, shaping and soldering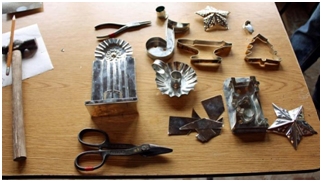 Class 2: Make a Colonial Candle Sconce
Mark and cut a pattern, shape tin, wire an edge, solder.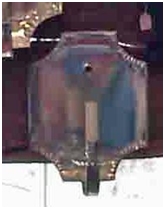 ---
March 24 Meet the Vikings, Castlerock Museum, Alma, WI
http://www.castlerockmuseum.com 608-685-4231
Tom will demonstrate silver wire inlay to decorate parts for a sword hilt.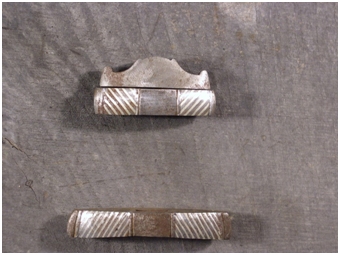 ---
April 6-8, Class: SIMPLE TRIPOD CANDLE HOLDER
Vesterheim Museum, Decorah, IA
www.vesterheim.org 563-382-9681
Students will create a type of simple candle holder with three legs ending in penny feet,
two arms terminating in candle cups (forged by spreading the bar and rolling it), and one stem connecting the arms and legs.
Parts will be forged using the gas forges in which they will also be welded.
The arms will be forge-welded to the top of the stem and the legs to the bottom.
The mass of material where the arms meet the stem can be cut into whatever design inspires each smith.
The sequence of the steps, designed to allow the welding of parts without burning completed elements, will be stressed.
When the welding is completed the legs and arms will be curved using charcoal forges.
While this is a simple design it is not a beginning project.
Students should have some forging experience including a little forge welding.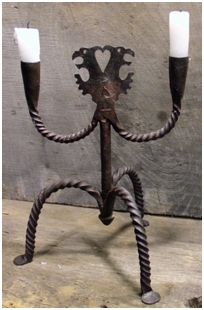 ---
April 20-21 Lock collectors' show, Indianapolis, IN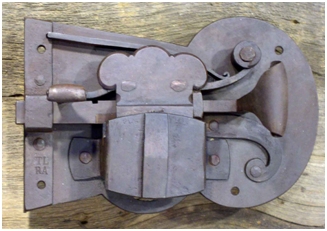 ---
April 27-29 Metalworking presentations, Upper Canada Village, Ontario
Tom Latané will present his method of making pieces of an 18th century style coffee/spice mill:
Tom will also bring some early locks and some examples from his own interpretations of the same
for show and tell. The theme of his presentation will focus on the coffee mill. Tom would like to
encourage participants to bring example of early locks and or coffee mills for study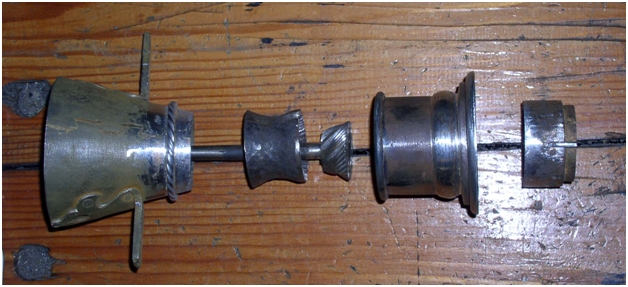 Kitty will offer 2 hour sessions of tinworking. Students may choose from a number of small items
including nutmeg graters, cookie cutters, and ornaments.
Skills taught will cover marking a pattern, cutting, punching, shaping and soldering.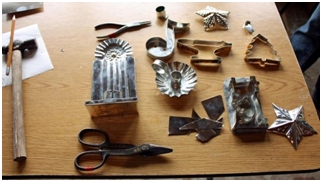 ---
Bench Vise, Part 2
Tom Latane'
May 4, 5, & 6 2018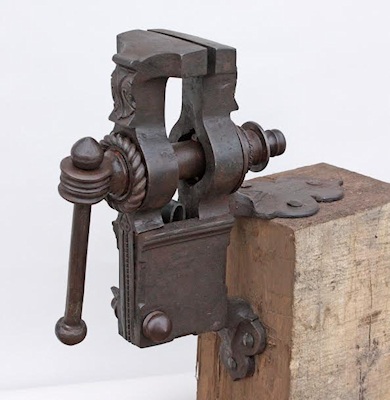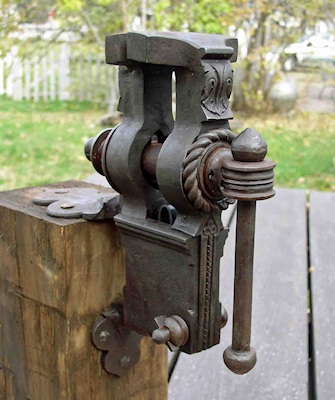 Students continue work on a bench vise with three inch wide jaws.

Review of the process:
Striking for each other, they will upset the stock for both jaws and weld high carbon steel on each.
Once the jaws are forged, an eye will be split and drifted below each for the screw and box.
The bench mount will be forged with a tenon to pass through the rear leg below the eye. This tenon will also hold the spring in place.
The bottom bracket may be forged as a plate to be fastened to a bench leg, or tapped to take a screw for clamping to the bench.
A swage for producing molding on the upper edges of the cheeks will be demonstrated as an option. Cheeks will be riveted and welded or brazed in place.

Making threads on the screw will not be part of the class.
The screw shaft can be forged with an eye on the end for a toggle and threads cut on a lathe later.
As an alternative students may forge the eye and fit it to a tenon filed on a salvaged screw from a "C" clamp, as was done for the prototype.
The components for the box will be forged and brazed around a salvaged nut or around a worm wound on the screw.
---
May 22-24 Door Knocker, Band Weaving classes at Raspberry Island, McGregor, MN
hillx001@umn.edu 218.851.6085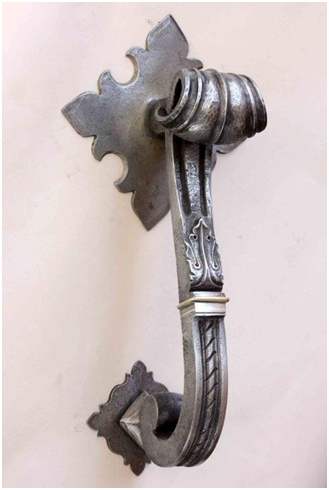 Door knocker
Students will learn a number of decorative techniques to apply to a basic scroll shaped door knocker.
They will forge a snub end scroll at the lower end of the stock above which will be hot chased a bead.
This bead will be divided into rope segments cold, after the scroll has been given its final shape.
In the center of the bar will be forged and filed a lamb's tongue profile.

There will be a demonstration of cold chasing a leaf in this mass.
The upper half of the bar will be chased with ribs on the front below and the back above, so that they appear continuous when the scroll is rolled.

Then a boss will be forged, against which the knocker will strike, and a clevis hinge,
half of which will be mortised through the upper scroll. A single escutcheon may be forged for the knocker,
or separate escutcheons for the boss and hinge elements.

Depending on the proficiency of the student it may be necessary to choose between chasing the leaf or forging the hinge or boss.
---
June 9, Fire in the Shire, Castlerock Museum, Alma, WI
Tom will demonstrate decorative filing and chasing on steel.
---
June 27-30 ABANA Conference Richmond, VA
The patient order of meticulous metalsmiths will forge and assemble a sculpture featuring a wheel,
the spokes of which will be decorative tools and implements made by smiths of the past.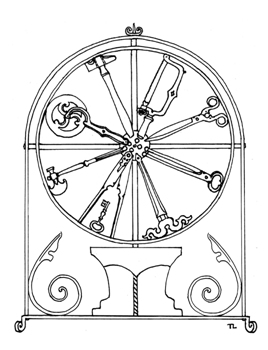 ---
July 15 Stockholm Art Fair
---
July 27, 28 Nordic Fest, Decorah, IA
www.vesterheim.org 563-382-9681
Tom will set up the portable forge in the Open Air Division
---
Sept. 8, 9 Laura Ingalls Wilder Days Pepin, WI
Tom and Kitty will have the portable forge and tinwork bench set up in the park with ten or so other stations where people will demonstrate 19th century trades and activities.
---
Sept. 26-29, 2018 National meet of the Midwest Tool Collectors in Cedar rapids IA
Tom's and other demonstrations will run between 8:30 and 2:00 on Friday the 28th
---
Oct. 12-14 Hacksaw Class, Tunnel Mill, Spring valley, MN
www.tunnelmillcrafts.com jc-adams@msn.com
507-289-4189 Carol Adams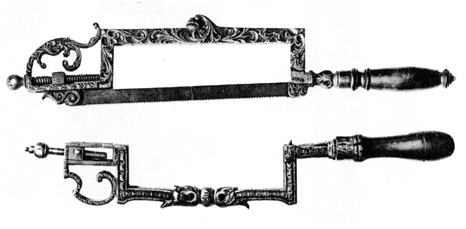 Students will construct a hacksaw based on seventeenth century examples.
This style has a rack at the end opposite the handle, in which a carriage,
made to take the blade laid vertically or horizontally, is moved by a screw to supply tension.
The rack will be stabilized by a scroll or acanthus leaf. Parts will be forged, filed and chased.
Some parts will be brazed in the forge. Decorative techniques demonstrated will include piercing,
chasing in solid material, and filing.

Participants may prepare wooden handles prior to the class or make them to fit later.
I may bring some turnings to sell.
---