Machine Knitting
Last Revised: April 16, 2020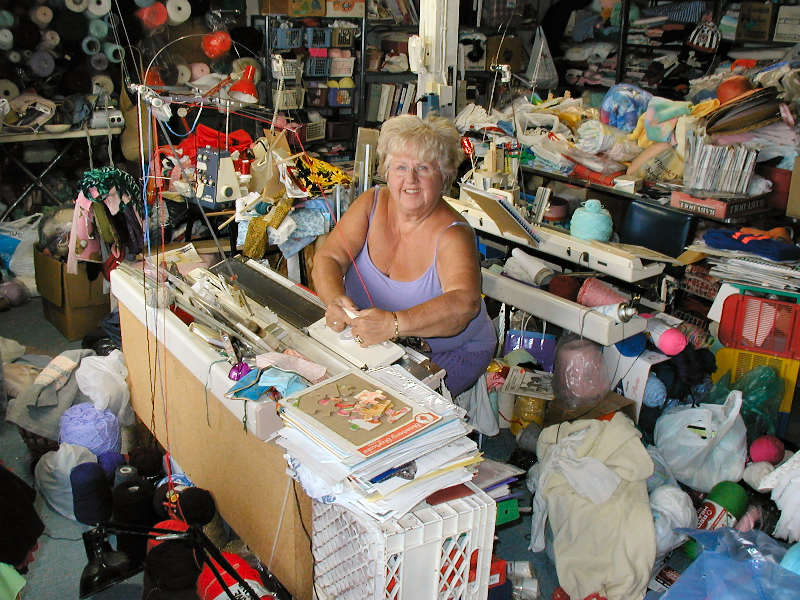 ---
Home
Yarn Spinning
Circular Sock Knitting Machines
Contact Us
---
Flat Bed Machine Knitting
I, Sheran, am the oldest of five girls. My mom was an excellent seamstress and had learned it from her mother. So mom taught all of us kids to sew to some degree. I got pretty good at it, often winning 4H awards. I also picked up crochet, embroidery and hand knitting, One day we stopped by a knit shop in Stillwater Mn, and found a whole wall of machine knit items being displayed. I said to myself (it must have been out loud) "Someday I'd like to have one of those knitting machines!". A couple of years later, as a Christmas gift in 1972, my husband surprised me with my first knitting machine, a used Studio. When we tried unsuccessfully to get it to work, after many frustrating hours , he scheduled private lessons for me. That was just what I needed to get me on the road to machine knitting.
A little later I met a gal who ran a knit shop in river Falls Wisconsin, took more lessons from her and joined her knit club. During this time, we moved from our house in suburban St. Paul to our current abode in the French Creek Valley. Through this gal my hubby bought me a Brother 910, one of the first electronic knitting machines. It used a mylar card for pattern input rather than the punch cards that were in common use at the time.
Since my husband was worried that I might get peanut butter or jelly or something on the mylars and ruin my electronic pattern reader, I developed an "Album" of custom made plastic protectors for the cards.
These I placed in a custom made binder. The idea worked out so well that pretty soon I was selling these and developing other sizes for people with other brands of machines that used various sizes of punch cards, too.
A couple of years later, I also joined "Merrimac" a much larger knit club in Minneapolis Mn. I still belong to this club and really enjoy both the educational and social opportunities our meetings give me.
After I became familiar with the 910, I became impatient with the range of patterns available, so I produced a book of full sized patterns and sold them for several years. From time to time I added to the collection and produced some specialty packets, too. I added special pens for the mylars, a light box and other accessories to my line. I often wonder how many people out there still use mylars and punch cards. For those people, it would be easy to go back into production with patterns and "Pattern Safe Albums". E-mail me if you have an interest.
The opportunities are unlimited with these machines. For instance: my husband is a hobbyist blacksmith. So I made knit caps that have a blacksmith's anvil repeated all the way around. They are popular enough that I've been getting orders on and off for over 20 years. I have even sent them to England and Canada. One of my favorite projects was to make a crossword puzzle sweater for each for my four sisters. I developed a crossword puzzle based upon each sister's full name. I centered the crossword puzzle design on the front of the sweater and knitted it in.
Over the years, I have upgraded machines, moving to the Brother 930. this was a big deal, because this system came with its own separate computer that allows you to design on the screen of a TV set. I t also stores the designs on a floppy disk for transfer to the knitting machine itself.
My next move, and my newest current machine is the 950i. This machine combines the capabilities of both the 910 and the 930 in one unit.
Along the line, I have included a Brother 260 Bulky with a 24 stitch punch card and several other used machines.
I guess I just have sticky fingers when it comes to knitting machines. You probably wonder where I put all that equipment!
Well, in 1992 we burned down our ancient French Creek Valley farmhouse (on purpose) and started all over again with a beautiful new 1900 square foot ranch style house that I designed. In its finished, walk-out-to-the-south full basement, I have a 20' X 28' studio devoted completely to my fiber arts. I can look right out the wide windows into the valley as I work at the knitting machines, at sewing or serging. The walls are totally covered with dressers, shelving and peg boards filled with yard goods, yarn in hanks and lots of cones and other accessories. The carpeted floor space is completely utilized with a 4 X 8 cutting table , 4 knitting machines, 2 sewing machines, 2 sergers, ironing board, mangle and my knit design programming machine. The studio has its own phone, heat controls, is air conditioned, has a central vac outlet (which I don't use as often as I should) and electrical receptacles everywhere. My husband says that the place is so full of "everything" that someday "life" will spring from it! Hey!, it's MY place!!!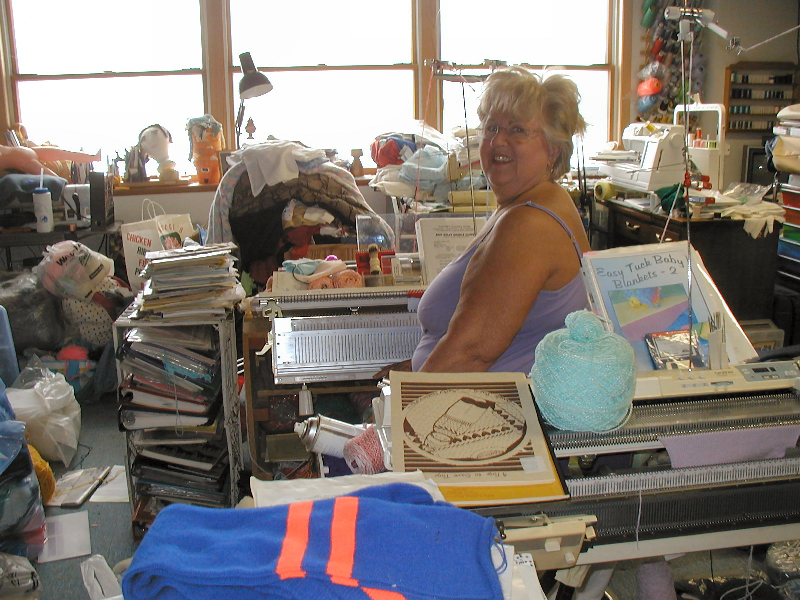 Over that last several years, I have acquired an electronic Bulky Knititng Machine, 3 antique Circular Sock Knitting Machines. I have begun quilting and making pioneer prairie bonnets and pioneer dresses.
My husband and I attend several historical reinactments and threshing shows each year, dressed in 1870's costume. At the shows, he demonstrates traditional blacksmithing techniques and I demonstrate spinning of yarn.
I often take babby rabbits with me and that really brings in the kids.
Sometimes a friend brings an angora rabbit and plucks the fur right there. He hands me the fur and I spin it on the spot. This is always a crowd pleaser.
I'd like to hear from others who have similar interests, particularly in the east central Minnesota and west central Wisconsin areas.
---