---
French Creek Valley Home
Back to Maple syrup
Contact Us
---
French Creek Valley Sugar Bush
Pricing and Ordering Information
12/1/2001
---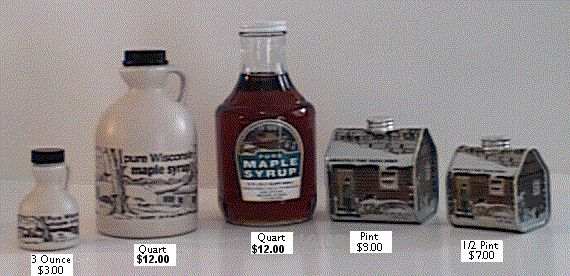 ---


We sell only 100% Pure Maple Syrup. We have Pints and Quarts in both attractive plastic "Little Brown Jugs" and in traditional Round Glass containers. We also have we Pints and Half Pints and in Tin "Log Cabins". We can supply custom orders in larger containers, too.

Maple Syrup makes great gifts! We can also ship orders directly to the gift recipient of your choice.

---

One Quart "Little Brown Jug" $12.00

One Pint "Little Brown Jug" $ 8.00

Half Pint "Log Cabin" $ 7.00

One Pint "Log Cabin" $ 9.00

One Quart Traditional Glass $12.00

One Pint traditional Glass $ 8.00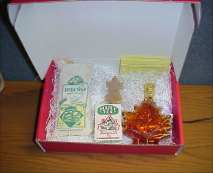 Gift Package: Gift Box: Contains 1 each: Special 348ml (about a half pint) Maple Leaf-shaped flask filled with our Pure Maple syrup, One lb. Gourmet Pancake Mix, One box of Maple tea, One individually wrapped Maple Leaf-shaped Maple sugar candy and a variety of Maple Syrup recipes on a heavy folded card. ---All nestled in artificial grass inside our 13" X 9 ¼" X 3 ¼" gift box Price $24.00


!!!New!!!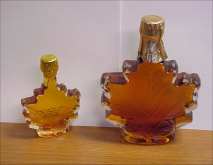 We now have 2 sizes of glass Maple Leaf bottles of our Pure Maple Syrup. the small (5 centiliter) size is $2.50 and the large (348 milliliter) size is $7.50.
---
Order via phone, e-mail or by letter. We will charge applicable sales tax and shipping and handling at cost. We will ship via UPS or Parcel Post, whichever is cheaper for you.

E-Mail us using the Hotlink, below.
Phone: 715-698-2895
Snail Mail:
French Creek Valley Sugar Bush
2476 10th Ave.
Baldwin, Wi. 54002