A 16th/17th Century Padlock
Last Updated: April 18, 2020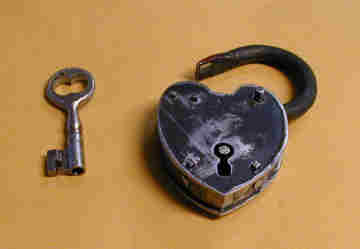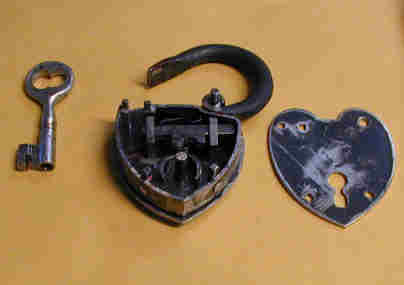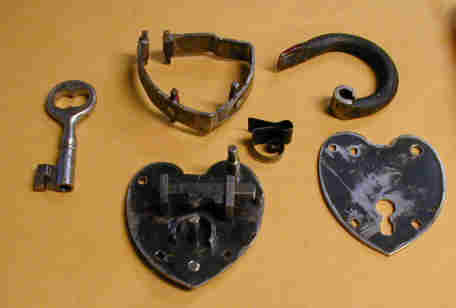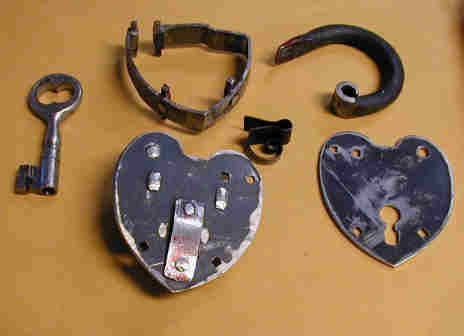 The photos above show a number of views of a padlock I recently made.
---
French Creek Valley Home
Back to Blacksmithing
Guild of Metalsmiths
Contact Us
---
Tom Latane', blacksmith extraordinaire, from Pepin, Wisconsin recently put on a padlock making workshop at the Tunnel Mill School south east of Stewartville, MN. And that's how I learned to make mine.


---
Tom has graciously offered to answer specific questions. You can contact him here:
Tom and Kitty Latane

---
I had a chance to attend. It was a great workshop! The 8 students each made a 16th/17th century padlock in this 3 day workshop. (Got most of it done, anyway). The most modern tool we used was a simple drill press.
All other parts were hand forged, chiseled, punched and filed. There were 16 individual parts to be made for the lock. Tom provided partially completed key blanks for us because they are very time consuming to make from scratch. Other than the key blank, the whole lock was made from scratch, using 3/8" round stock, a couple of sizes of flat stock and a piece of band saw blade.

We each received a 3 ring binder with good instructions and drawings. We learned a lot about filing and fitting, too. Tom also talked about padlocks in general, focusing on the various "defensive" measures that go into lock design. My lock is basically done, but I have decided not to rivet the case shut. That way I can dismantle it to show how it works. My 4 year old grand daughter (in 2006) loves to take it apart and reassemble it, too!
John and Carol Adams, the proprietors of the school have convinced Tom and his wife Kitty to put on similar workshops through the years and they continue that trend today. They are always working on new topics. No matter what the focus of that next workshops will be, I certianly plan to register.
---