My Metalworking Shop
Last updated: October 2, 2020
---
French Creek Valley Home
Back to Blacksmithing
Back to My Shop
Contact Us
---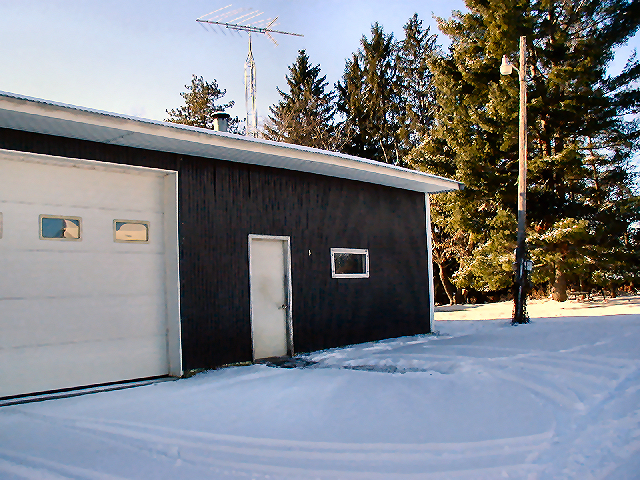 Outside Entrance to my metalworking shop

---
Here are some pictures of my metalworking shop as it is today. It's pretty obvious that I didn't put things away for these pictures. That's because there isn't any place to put all the stuff anymore! It really is "10 pounds in a 5 pound bag". I'd call it a true one-man shop. The main machine tools are placed around the edges and all the "portable" stuff is in the center. The idea here is that I can move all the stuff out of the center of the shop as needed if I need the space. For example, recently I had a blacksmith club meeting here. In order to make room for about 25 people to watch the demonstrations, I moved everything from the middle except for a small bench. Then I moved my Poor Man's Hydraulic Press in. This gave us enough room for the task at hand. Of course it took me several weeks to get things all back together after that!


---
When I go to someone else's shop, I can always spend time looking around for ideas. As you look through these pix, I hope you can pick up some ideas, too. Even if they are ideas of what NOT to do in your shop!

As usual, click on the thumbnail to get a bigger image. I have left some of the images fairly big so you can see plenty of detail. If you need less detail, email me and I can send 640 X 480's to you.



To the southwest corner of the shop, here's a view of the forging area.
Forging Area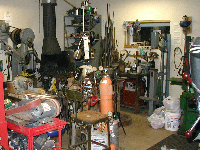 Looking Northwest, the focus would be on the old G&L surface grinder and the US Machine Tool vertical mill if the Kennedy tool chest wasn't in the way.
Surface Grinder & Vertical Mill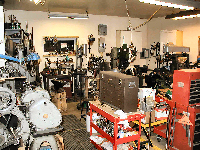 To the Northeast there's a better shot of the mill and the drill press.
Mill & Drill Press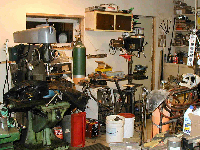 The Atlas 10F lathe and the 50 pound Little Giant Trip Hammer. Sorta in the foreground is my VERY small worktable.
Lathe & Trip Hammer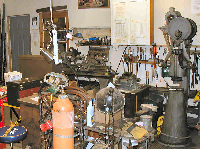 A better shot of the 8" X 20" surface grinder that I mostly use for grinding the face of blacksmith anvils.
You can see the Mill better in this view. To the right in the picture, you can see the Betamig 250 and a little 120 volt flux-core mig.
Welders, Mill & Grinder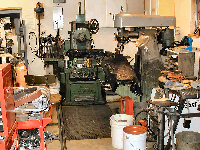 This view shows the 4 X 6 HV bandsaw and the small Delta vertical band saw. It also shows the clutter in
front of the door. This door allows me to move stuff in and out easily.
East Garage Door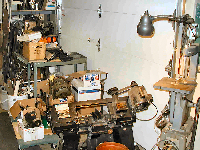 Here's a better view of the "Blacksmith Shop" area. The forge has a 14" diameter flue.
Bigger is better!
Forging Area & Treadle Hammer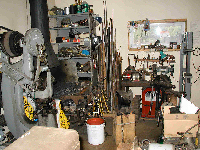 This is my Craftsman model 150 drill press, to which I have added a speed reducing motor. See:
Drill Press Speed Reducer
If you are wondering about the table lift that it has, here are a couple of pictures: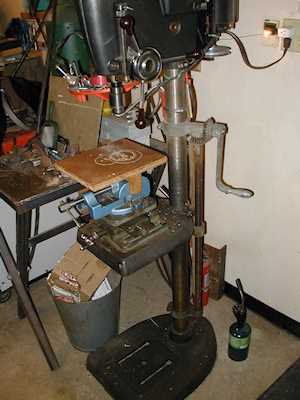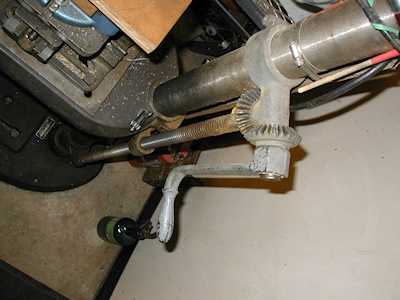 Here's another "Speed Reducer"; this time for my old Delta Homecraft 10 inch 2 wheel bandsaw.
I had been using it for the bandsawing of wood for many years, then I had a project that needed many complex shapes cut out of 14 gauge steel.
Here's how I did it.



Feel free to email me if you see anything you are curious about.


---