German Braided Rug Weaving
Updated: October 22, 2023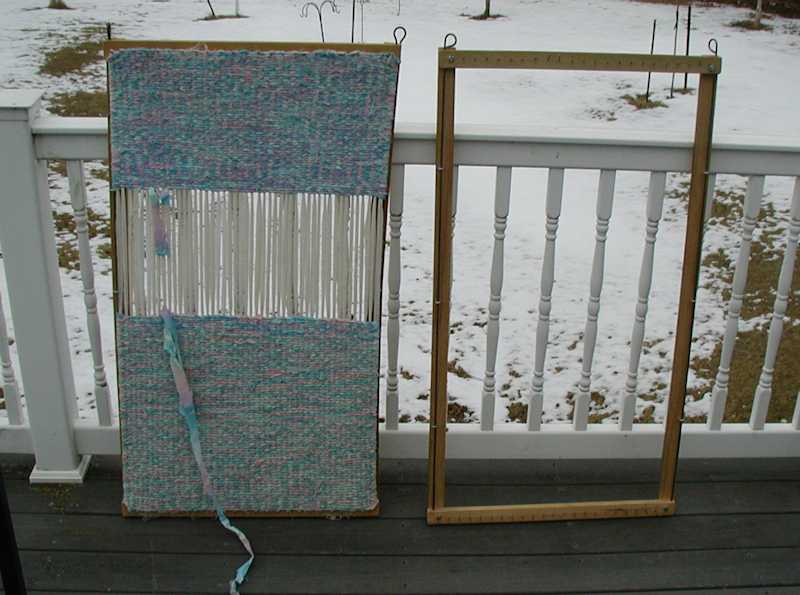 ---
Home
Making the Rug Looms
Machine Knititng
Circular Sock Knitting
Contact Us
---
GERMAN BRAID WEAVING OR TWINING
Here's the class announcement that Sheri used to advertise her Summer, 2012 class:
I, Sheri Stanaitis, will be teaching 2 classes on German Braid Weaving Rectangular Rugs during the 2012 ABANA Blacksmithing conference in Rapid City, SD this July.
The first class is Thursday morning from 9 AM to Noon and the second class is Friday morning, 9AM to Noon. You may register when you arrive at the conference on Wednesday.
Cost of class is $50.00 which includes demonstration, written instructions, a 24" X 42" Frame (the German Braid Weaving Loom) and the 23 Warp loops that are needed to string it.
We will be meeting in an air conditioned room where all the family activities will take place.
Sheri Says:
I took a class years ago called German Braid Weaving to make rag rugs. The teacher brought a basket of rags and old garments to tear up for rugs. Some of us wanted them to be made out of fabric of our own choice. That was when Walmart still had fabric for $1.00 per yard. As of this writing, Walmart still has some fabric for $1.50 per yard. The rug takes about 10 to 12 yards of fabric. Garage sales or thrift sales may be a good source for fabric also.
Guild of Metalsmiths member Cathy Herman brought her loom to the Memphis conference 2 years ago and there was a huge interest. That was when we started talking about teaching this class.
We intend to be able to teach 50 people, up to about 25 each day.
The class will start with a demonstration and printed instructions will be handed out. After the demonstration, students start to work.
We will bring rugs in different stages to show you progress.
We will be there all morning to help each one of you.
-Bring 10 to 12 yards of your choice of fabric. I would suggest cotton or cotton-polyester that may be torn into strips for weaving.
-We'll bring all the loom parts to Rapid City and the class starts with assembling your own loom, about a 10 minute job. We should be able to do this with fingers, but a pair of pliers in your tool kit might be a good idea.
-Bring scissors, needle and thread.
-It'll take more than the 3 hours of the class to finish your first rug, so you can continue working on it throughout the conference. Of course, the loom will go home with you. This loom can be used over and over.
-This activity can be done sitting in a chair leaning the loom against the table to weave.
If you have any questions about this class, please feel free to call me (Sheri) at:
715-698-2895
or email me at:
spaco@baldwin-telecom.net

---
The classes went very well and Sheri's area was a constant gathering place during the whole conference.
Several people have since bought frames from Sheri. They have asked for and have received a set of instructions for doing the weaving.

Click the link below for a Word document of those instructions:
Two Page Rug Weaving Instructions

We do have several of these rug looms for sale at $35 USD each, plus shipping.
As of August of 2019, shipping cost, USPS would be about $15 to Chicago, Il. and about $25 to California. UPS shipping costs seem to be somewhat higher.
Click here to leave us a message if you are interested in buying one


A stand for Sheri's German Braided Rug Looms
--by husband, Pete, July 15, 2020
Sheri asked me to make her a simple stand for one of her rug looms.
She wanted to be able to weave while sitting in her favorite chair with one end of the loom in her lap and the midpoint of the loom suspended on a simple stand which would allow her work on one half of the rug at a time and to switch ends as needed.
She showed me a couple designs for similar looms but they lacked the detail needed to actually make the stand.
So, using those designs as a starting point, I made a prototype stand for her style and size of loom.
She tested it today and showed it off during her regular Wednesday Zoom fiber meeting.
One of the gals asked for some pictures of the stand so she could get her own stand made.
Instead of pictures, I put together a short video showing the stand with loom mounted on it.
The video:
-shows several views of the stand with loom mounted,
-gives dimensions of the parts,
-explains assembly details,
-and makes note of several important construction changes needed to fit looms with sizes different from ours.
Here's the link to our German Braided Rug Loom Stand:
Stand for German Braided Rug Loom

---