Making Looms for German Braided Rug Weaving
Updated: August 4, 2019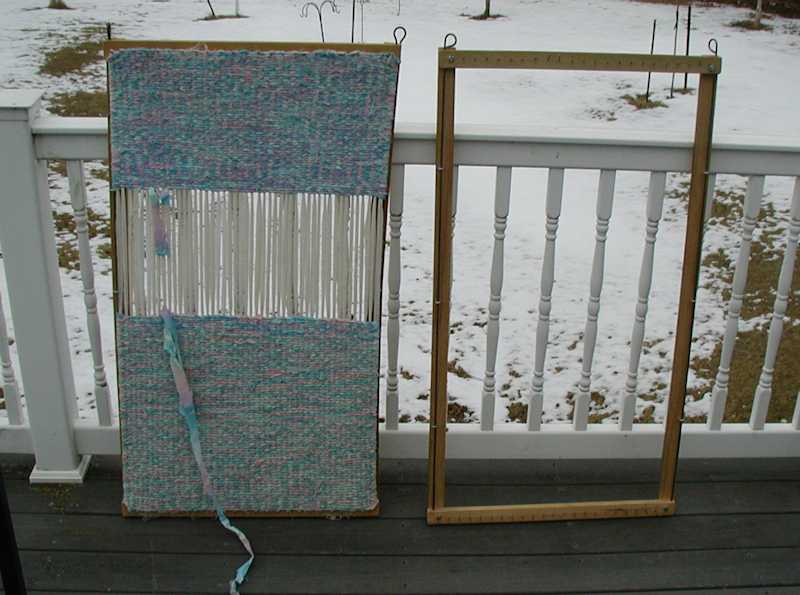 ---
Home
Rug Looms
Machine Knititng
Circular Sock Knitting
Contact Us
Site Map
---
Making a Batch of 50 Rug Looms
Sheri needed 50 of these rug looms for the 2012 ABANA Conference Family Program so I agreed to make them for her. We already had several of these 24 inch by 43 1/2" looms from past classes that Sheri had been involved in.
We noted that the 5/8 inch to 3/4 in thickness of the originals soft wood frames allowed for some bowing at the sides so we decided to make ours a little thicker.

We found several hundred board feet of soft maple (still a hard wood relative to the pine used in the other frames) in 6 foot lengths, with board widths of 4 inches to about 8 inches and about 15/16 inch thick, rough planed.
We jointed and ripped the boards, then sawed them to length to produce 100 end slats and another 100 side slats.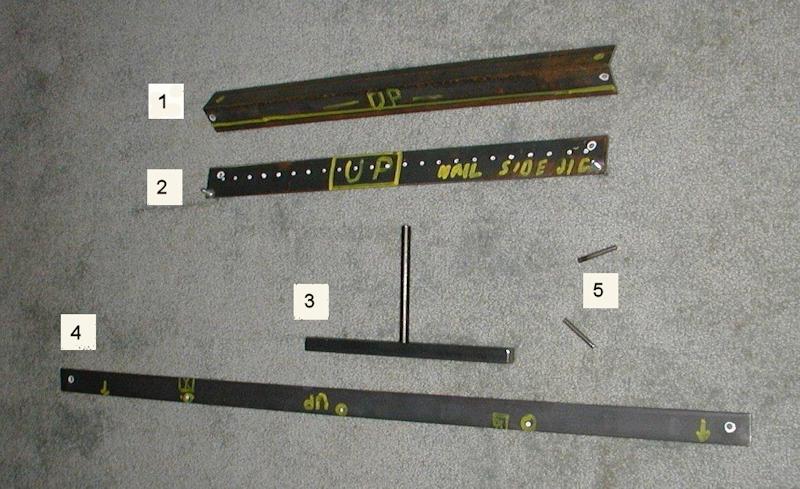 Fixturing
To make certain that everything would fit together correctly, I decided to make a fixture (#2)for marking nailing locations for the 23 3d nails on the end slats and for the bolt Holes. Another fixture (#1) indexed the end slats for drilling the side rod holes.
Two locating pins (#5)made sure that nothing could slip as marking and drilling progressed.
I also made a nailing stop (#3)to hold the nails 3/4 inch proud of the slat surface.
Two bolt holes and holes for 3 screw eyes are needed for the side slats, so I made a fixture (#4)to guarantee accuracy in these components since the screw eyes have to line up with the side rod holes in the end slats.


I used my "mini hossfeld" bender to make the finger hooks in the 100 3/16 inch diameter side rods.
---