Pete's Narrow Frame Cub Cadet Page
Last Revised: May 13, 2023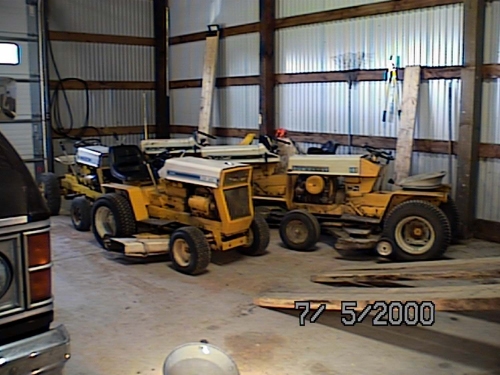 ---
Home
Blacksmithing
My Shop
Contact Us
---
My Cub Cadet Troubleshooting FAQ:
The Grass Directing Guide under the mower deck has rusted away
-Replacing the drive hub and pin on narrow frame hydros- hints to make it easier
-The Engine-to-Deck belt keeps coming off
-What to look for in a used Cub Cadet (narrow frame)
-My Drive-on Grease Rack makes servicing easy
-Loose Steering Because of worn out Knuckle and Arm, how to fix
-Engine starts and runs, but lacks power until warmed up for 10 minutes
-The rear Drive Shaft drive pins are hard to replace- add a little hole
---
Introduction:
I never meant to collect garden tractors, but after the second one came my way, they started following me home for a while. We have eight of them now and that's probably enough until the next "too-good-to-pass-up" deal comes along. Sometimes it's like looking at a puppy with a sad face when you see a machine sitting out in back of someone's house.

Our Cubs are all working machines. It takes about 7 hours to mow the lawn, so we usually split the task between the two of us. Two 12 horse hydros do the mowing, with a 10 horse for backup. A 72 is used for pulling the cart and the lawn rake around. A 105 (I think) hydro has a tiller behind it. A 70 is on permanent loan to one son. A 123 and a 100 just hang around.
I do everything but engine rebuilding since we have a Kohler rebuilder 8 miles away.

-Cub Cadets are Noisy- wear earplugs and even muffs, to save your hearing

-I am only interested in the Cub Cadets from the Model 70 to the 127.

-When parts wear out, I try to rebuild or remake them myself. A good example of this is when the mower belt won't stay on anymore because the cross shaft in the frame and the fork on the mule pivot wear out. I just fill the shaft in with weld and rebiuld the fork. Good as new.
I make other parts from scratch by forging, Blacksmithing or machining in My Metalworking Shop .

-Cheaper sources for parts (Not a big deal, but here are a few ideas)
Front wheel bearings come from Northern Hydraulics
Tie rod ends from flea market
Ignition switches from Surplus Center
Starter solenoids from Surplus Center
If you have any other proven cost-saving ideas let me know and I'll post them here.

---
-The "Unofficial" Cub Cadet site
-Trackster.com, another off-road vehicle

---