Pete's Power Hammer Page
See my Power Hammer FAQ at the bottom of the page
Last Revised: February 3, 2021
---
Blacksmithing Main Page
Powerhammer Page
Home
Contact Us
Little Giant Website
---
Hammers at MY House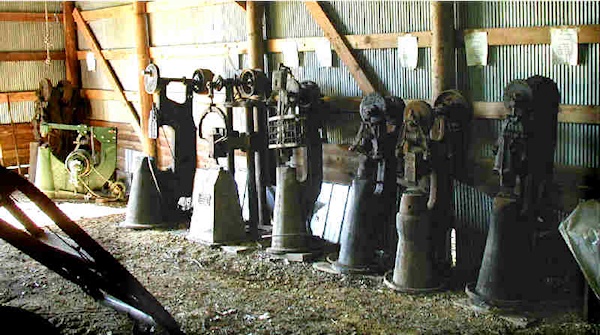 ---
Identify Hammer Styles
Rebuilding DVD
Fix Lower Die Cavity
The Easy Hammer, Rebuilding One
Power Hammer FAQ
---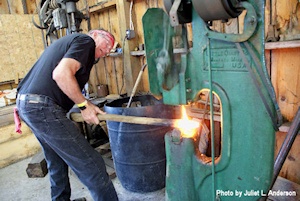 My small collection of power hammers contains nine units at present. Eight of them are in an out building that I loosely call my "Museum". Five of the eight are Little Giants. One is a 50# Mayer Bros., one is a 25# Mayer Bros. (made after 2 of them moved to Wisconsin) and one is a 25# hammer made by Novelty Iron works, Dubuque, Ia.
In Little Giant 25#'ers, I have one "old style " (wrap around guide), one "transition hammer", one "new style" and one "Easy" hammer. Lastly, I have one old style 50# hammer in my shop and one in my "Museum".
This collection is a handy place for local people to come to compare various sizes of vertical hammers and modifications that the product line had seen over the years. Some need work and some are ready to go. We held a Fred Caylor/Harlan (Sid) Suedemeier Power hammer rebuilding workshop out here in 1992 and again in 1996 and the collection got quite a going over at that time. 24 people and their families came for the first 2 1/2 day workshop and about 18 workers came the second time.
Sid Suedmeier, former owner of Little Giant, holds one of these workshops each year, usually in his shop in Nebraska City, NE. You can phone him at 402-873-6603.
---
In June of 2013, Sid turned the business over to Roger Rice, also from Nebraska City.
Here's the announcement:
Little Giant is changing ownership, effective immediately. In order to perpetuate the line of replacement parts, repair services and information, Little Giant will now be in the extremely capable hands of our machinist, Roger Rice. He will be assisted by our friend David Sloan, who has a great understanding of the mechanical operation of Little Giants. We will be assisting Roger and Dave during the initial transition, and Sid will continue teaching the annual Little Giant rebuilding class. The same telephone number (402-873-6603) will move to the new location at:
Midwest Machine, 6414 King Road, Nebraska City, Nebraska 68410.

New Email Address (Updated 7/18/2019): mm21654@gmail.com

It has been a great 22 years, and we are profoundly grateful to have been a part of the blacksmithing community. We have often said we have the best customers in the world, and we do mean it.
It has been an honor to not only help keep these venerable machines in operation, but to have made so many good friends in the process.
With sincere appreciation,
Sid Suedmeier and Keri Hincker
(End of Announcement)

P.S. An additional email says that Sid's health is good.
---
The foregoing description of my power hammers is not an offer to sell, but I have been thinking about it lately. I collect them. Lots of people ask me why. I point out that when I was a little kid, I used to collect popsicle sticks and now I am big.

In January of 2015, a guy contacted me with questions about a 50 pound "New Little Giant" of an exact style that I hadn't seem before.
He sent me some pictures so I put up a webpage about it.
A Unique, to me Old Style 50 pounder Pete's Modified "Scraping" process for reshaping worn Die Cavities
Vertical Hammers
What Style of Hammer IS That???????> Click HERE to find out how to differentiate the styles of Litttle Giant/Mayer Brothers Hammers from one another. I use examples of 25# and 50# hammers to show each style.
Horizontal (Helve) Hammer, the RAREST of all the Mayer Bros. Hammers!Click HERE to see my Easy Hammer (Before and After) and to find out how I went about rebuilding it.
---
My Power Hammer FAQ Section
How do I locate a Power Hammer to Buy?
Read this article:
How do I get started in blacksmithing?
It mostly suggests that you go where the blacksmiths are to find the equipment you want. And, since power hammers are pretty heavy and therefore expensive to ship, you will have the best chance to minimize that part of the cost.
How do I move my new Power Hammer from there to here?

What kind of Foundation Do I Need for My 25# or 50# Powerhammer?

What size Motor and Pulley do I Need for My 25# or 50# Powerhammer?

Why does my 25# Powerhammer Bog down?

What's this old trip hammer worth?

How do you Replace Clutch Facings on the Old Style Little Giant 50# Hammer?

Where are the Answers to the Little Giant Triphammer Facts Crossword Puzzle? Well, HERE THEY ARE!


---